Retail Sales
WE ARE EXPANDING
To better serve our retail customers, we are expanding our retail sale days! Opening Saturday April 18, 2009, we will continue to be open every Saturday through June and again in October. We will post the October dates here, in the local newspapers and announce them on KCRK radio in late September. Hours are 10am-2pm. A wide variety of shade, ornamental and native trees will be on display and available to take home with you. Or, take advantage of our landscape services and we will deliver and plant your trees for you.
Pre-ordering is encouraged for larger orders, or if you don't want to wait in line. Call and ask Dawn Marie to make arrangements. All pre-orders must be pre-paid. 509-738-2633.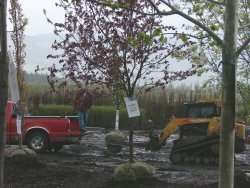 Trees range from 10'-22' tall. Trunk caliper range is 1.5"-5". All trees have balled and burlap root packages weighing from 200-1,000 pounds. Up to three trees can fit in the back of a standard bed pickup and one, sometimes two, in a short bed. We have even loaded one tree in the back of a Subaru Outback!
Also available soon; peat moss, bark, chips, and other products to assist you in caring for your trees.
NEW THIS YEAR, landscape maintenance, pruning, tree delivery and planting. Call Dawn Marie to schedule a consultation.